The Official Podcast has released part 1 of The Ties That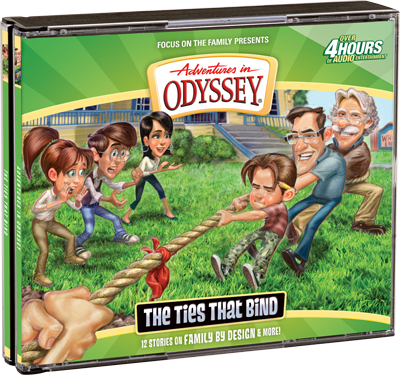 Bind. We now have a new summary for the album as well as a schedule for the OAC airdates.

Album 58: The Ties That Bind
Who knew that a comic-book convention, a poster, and a pastoral visit could cause so much drama in Odyssey? Wooton's got his hands full with a notorious blogger after announcing the creation of a new comic book idea-—and he has to deal with a wayward cousin. Whit refuses to join in a local festival and finds himself in a citywide tug-of-war between conviction and compromise. And the unexpected return of various relatives and former adversaries triggers complications for Connie, Eugene, and the rest of the Odyssey gang. It's the perfect blend of excitement, comedy, and important life-lessons in this special 14-episode collection!
Hear the whole story in the Odyssey Adventure Club
Join the Odyssey Adventure Club today to hear "The Ties That Bind" all summer long. The first month's membership is only $5.
Wednesday, July 2 – Part 1
Saturday, July 5 – Part 2
Wednesday, July 9 – Part 3
Saturday, July 12 – Part 4
Wednesday, July 16 – Part 5
Saturday, July 19 – Part 6
Wednesday, July 23 – Part 7
Saturday, July 26 – Part 8
Wednesday, July 30 – Part 9
Saturday, Aug. 2 – Part 10
Wednesday, Aug. 6 – Part 11
Saturday, Aug. 9 – Part 12
Wednesday, Aug. 13 – Part 13
Saturday, Aug. 16 – Part 14